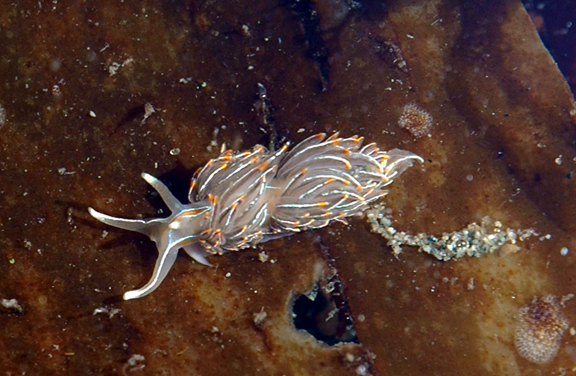 How cool! (www.northislandexplorer.com)
These tiny marine animals are squishy and adorable. They are similiar to sea slugs but not closely related. Nudibranchs are Mollusks, like Snails, Slugs, and Octopus, but have a few differences, such as their body symmetry. Their name is pronounced: nudie-brank and means "naked" + "gills".
A little Nudibranch in Fulford Harbour (credit: Gregory Gan)
I spotted these little white and orange Nudibranchs in Fulford Harbour (Salt Spring Island, B.C.). They were hanging out on a wooden wharf post, looking for their lunch. Nudibranchs eat other animals, such as Sponges and Anemones. These guys were only about 1.5 inches long, and their soft tentacle-like protrusions (called "cerata") wiggled in the water current. They were very beautiful to watch.
Nudibranchs can be very colorful and tiny:
P.S: Video to come shortly!